ANIMAL FLY INT'L-Your Pet Shipping Experts
"Take Your Furry Friends to Where Your New Life Started." Our Pet Shipping Experts assist you to move your Furry Familily to anywhere in the world.
Animal Fly Int'l
Animal Fly Int'l provides safe and smooth transportation to all pets.Our experts support in all way related to your pet relocation.Please feel free to contact and let us know what you need to know!We are always with you and your furry family.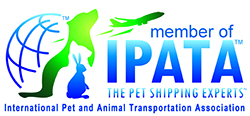 Company Profile
Company Name:
ANIMAL FLY INT'L Co.,Ltd.
Street Address:
P.C 231-0843
Hongocho 2-60-105, Naka-ku, Yokohama, Kanagawa,Japan
Contact Us
Please feel free to ask to Animal Fly by telephone, fax, Email, or the following contact form for our services and quote.
Business Hour:
Mon-Fri:
Sat,Sun,holidays:
9:00-18:00
Closed
TEL:
+81-45-228-8545
FAX:
+81-45-228-8544
Email:
info@animalfly.jp